Geosites of Choshi Geopark
◆Cape Inubosaki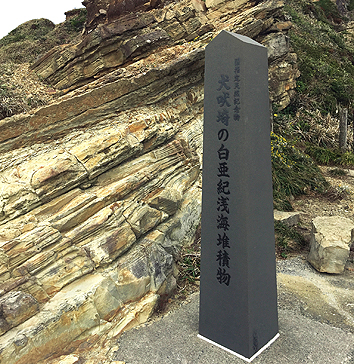 Cape Inubosaki was deposited in the ocean 120 million years ago. It's designated as a natural monument of Japan.
Valuable coastal plants grow naturally on the cliffs of the Cape Inubosaki.
At this cape, the sunrise will be the earliest in Japan for 10 days befor and after January 1st.
The lighthouse is a Western style first-class lighthouse that was built in 1874 according to the design of a British engineer "Richard Henry Brunton (1841-1901)".
◆Byobugaura Cliff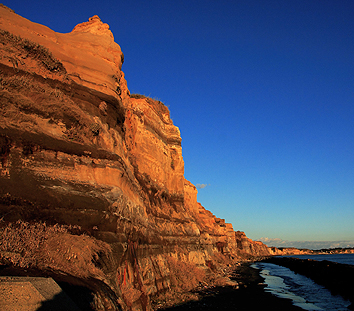 This cliff was created by cutting waves that uplift sea sediments 3 million years ago, that length is 10km and its height is 20m to 60m. It has been drawn also in Ukiyoe by Utagawa Hiroshige, which is a famous tourist destination since hundreds of years ago.
◆Inuiwa Dog Rock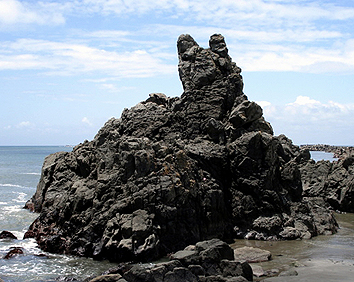 It's the oldest stratum in Chiba prefecture about 200 million years ago. Here is a sad legend of a dog who continued roaring for 7 days and 7 nights after his husband and became a rock.
◆Medogahana Cliff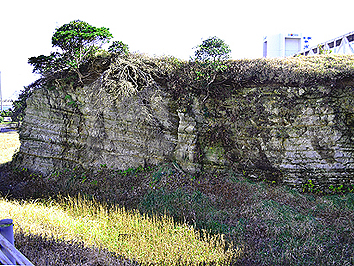 The cliff under the Choshi Port Tower is made of madstone deposited 17 million years ago when the Sea of Japan was formed.
A wireless communication station was set up here in 1908.
On May 27, 1908, Japan's first successful wireless communication with a ship on the Pacific Ocean.
◆Kimigahama Beach and Forest of Choshi Geopark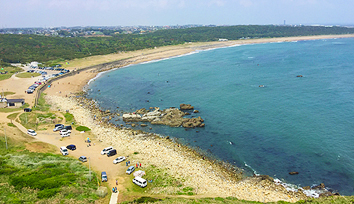 The beautiful beach of about 1km has been selected as one of the 100 best beaches in Japan.
Forest of Choshi Geopark is a 29.5ha national forest formed in dunes.
Here you can enjoy forest bathing and walking.
◆Nagasaki Coast and Homan Rock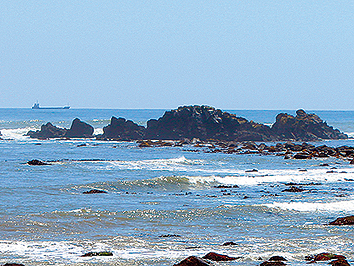 There is a volcanic rock island called Homan Rock off the coast of Nagasaki.
This is an island formed by the cold and solidified magma that erupted 20 million years ago.
◆Takada River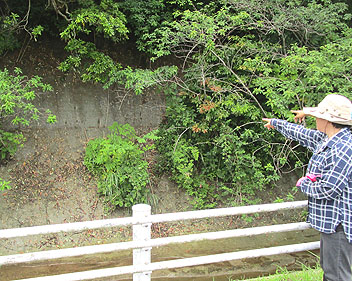 Takada River has a strata from the Quaternary Pleistocene Chibanian.
◆Rocks garden park and Volcanic rocks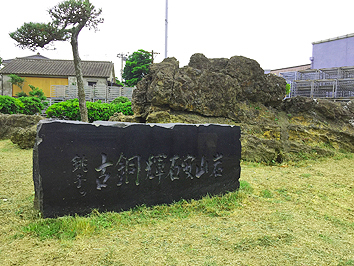 In the past, the area near the mouth of the Tone River was a very difficult place to navigate.
Because there were a lot of volcanic rocks under the water.
The volcanic rocks removed to improve the fishing port are exhibited in the Rocks garden park.
◆Saruda-jinja Shrine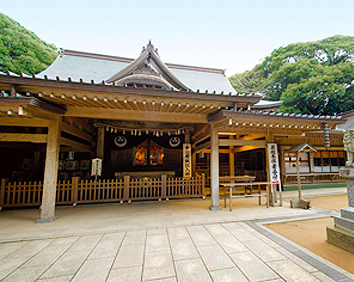 Saruda-jinja Shrine was built in 807. The forest of this shrine is designated as a natural monument in Chiba prefecture.
◆Tokai-jinja Shrine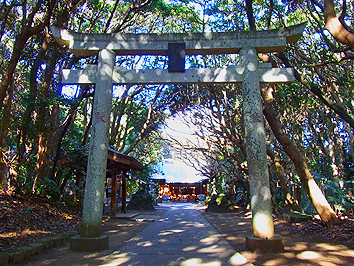 Tokai-jinja Shrine was built in 709, but moved to a higher ground in 976 due to the tsunami. The forest of this shrine is designated as a natural monument in Chiba prefecture.
◆Soy sauce Industry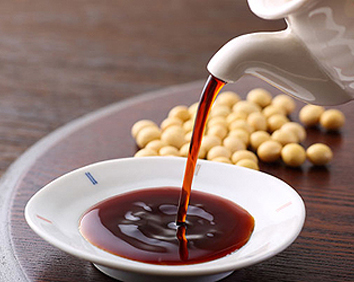 Soy sauce is a Japanese seasoning made from soybeans, salt and wheat.
This soy sauce manufactured from 1616 was carried to Old Tokyo via Tone River and developed the food culture.
Currently, soy sauce is manufactured at 4 factories in Choshi City.
◆Choshi Fishing Port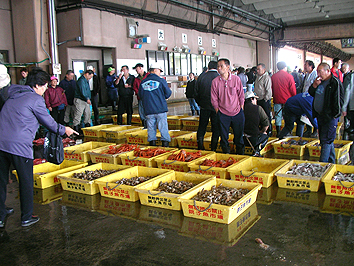 There are 3 fishing ports in Choshi City, and the amount of landing is the largest in Japan.
The market sells over 200 species of fish.
A tour course is available at the first fishing port.
◆Yoyama Shell Mound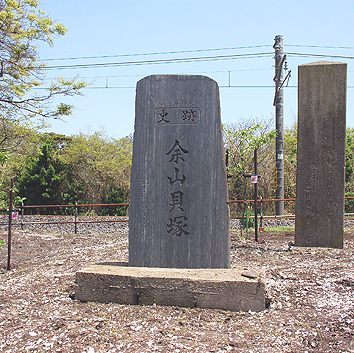 People have lived Yoyama Shell Mound since the late Jomon period, about 3500 years ago.
The shells, animal bones, earthenware, dolls, and accessories found here are exhibited in the Archaeological Material Exhibition Room of the Choshi City Cultural Exchange Center.
◆Tokawa Old Town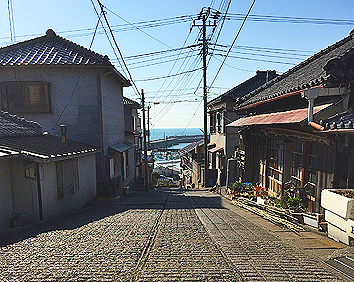 People who came here on the ocean current about 400 years ago developed slopes to improve residential areas and fishing ports.
A large amount of sardines were landed here and it was very prosperous.
◆Sen-nin-zuka Hill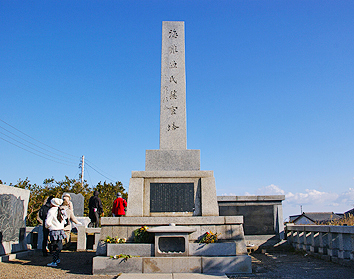 A memorial to those who died in a marine accident stands on the Sen-nin-zuka Hill.
You can enjoy seagull watching in winter.
◆Choshi Port Tower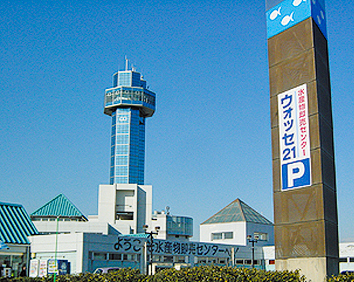 The height of this glass-enclosed tower is 57.7m. The Wosse21 has many seafood stores and restaurants.
◆Horizon Observatory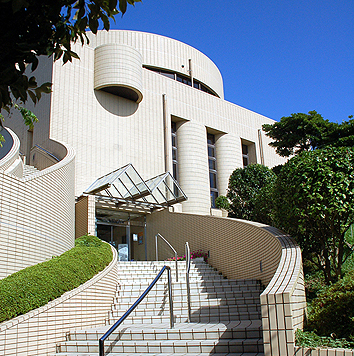 It's a massive panorama 360 degrees, of which 330 degrees are the horizon.
Ammonite and amber are displayed.
◆Choshi Geopark Museum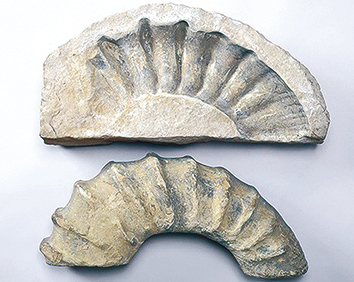 The main exhibition facility of Choshi Geopark. Ammonite and amber are displayed. (1777-1 Yagicho, Choshi City Cultural Exchange Center/9:00-17:00/Closed Mon & Nationlal holidays)
◆Choshi Geopark Visitor Center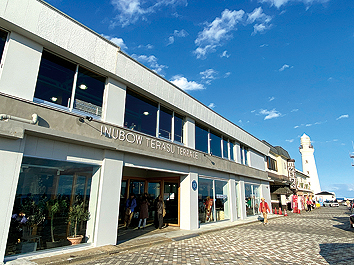 The infomation office of Choshi Geopark. Geopark guide has infomation on the spots where to see. (9575-2 Inubozaki Choshi city, Inubo Terasu Terrace/10:00-16:00/7 days a week)
◆Inubosaki Hot Springs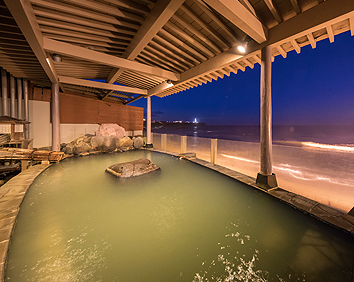 The quality of the spring that contains a lot of minerals from the sea has a strong moisturizing effect. You can enjoy a hot spring while gazing at the Pacific Ocean.
■How to get to Choshi
[Train]
Tokyo (JR Sobu line Limited Express "Shiosai"/to Choshi) → Choshi
[Intercity Express Bus]
Tokyo station Yaesu Entrance Side (High Way Bus "Inubo"/to Choshi & Inubosaki) → Choshi Station → Inubosaki Hotel
■Inquiry
Choshi Geopark Promotin Council Office
E-mail: choshigeopark@city.choshi.lg.jp
Phone: +81-479-21-6667/Open: 8:30-17:15 (Except Sat,Sun,Natiol holiday)

Choshi Geopark Promotin Council Office
E-mail: choshigeopark@city.choshi.lg.jp
Phone: +81-479-21-6667
Open: 8:30-17:15 (Except Sat,Sun,Natiol holiday)